Juan Carlos Monedero, the co-founder of Spain's anti-austerity Podemos
party and director of the organization's
electoral platform
, voluntarily paid
€200,000 in income taxes and fines on Thursday to satisfy a debt from
€425,150 he
earned as a consultant
to the governments of Bolivia, Nicaragua, Venezuela and Ecuador, party officials announced last week.
ources close to Podemos leader Pablo Iglesias explained that Monedero put his tax affairs in order with treasury officials through an agreement "that is more painful for him," but that also demonstrates "there are no doubts about his willingness" to pay.
Monedero is asking that the Spanish Tax Agency reimburse him the €70,000 company tax that his consulting firm paid on the same funds in 2013.
Monedero's earnings and the contracts he held with various leftist Latin American governments have been the center of controversy over the past few weeks after a story broke that the political science professor had made large sums of money as a consultant in Latin America but never paid income tax on the amounts to Spanish authorities.
"Under the law, the existence of a voluntary complimentary return implies that no tax fraud existed," said party officials in a statement, adding that Monedero won't have to face any new tax penalties. W
hile speaking at a rally last Thursday, Monedero told his supporters that he felt he was being persecuted by Finance Minister Cristóbal Monetero, who publicly questioned his income, and stated that his taxes had been paid.
I am not scared of you, Montero. All my accounts are in order," he said.
In its statement,
Podemos
said that before Monedero paid the penalty there had been no complaints filed against him by anyone for fraud or administrative violations with a judicial body or the Tax Agency. The party led by Pablo Iglesias maintains that Monedero has complied with all his tax obligations.
Reports published in other Spanish newspapers, El Mundo and La Vanguardia, state that the government has opened an investigation after Monedero filed a complete tax filing.
At the end of 2012, Monedero organized a company, Caja de Resistencia Motiva 2 Produccions SL, to bill Latin American government for consulting services that he offered three years before the firm existed.
Ignacio Ruiz Jarabo, who served as Tax Agency director during the past government of Prime Minister José María Aznar, said in an interview with the SER radio network that Monedero could face some "serious problems" with tax inspectors if they determine he billed governments three years after performing work for them.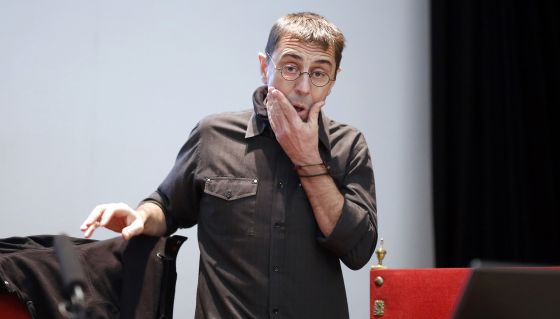 Juan Carlos Monedero, during a conference at a university business school last January.